About Us
On November 1, 2007, Charlie Horn, a 2-year-old Kansas City boy, was killed when he attempted to climb a 30″ dresser in his home.
It was through this tragedy that Charlie's House was born.
Brett and Jenny Horn, Charlie's parents, turned their tragedy into a mission. The Horns began reducing in-home accidents through increased public awareness and education. Through this effort, Charlie's House was established and served as a resource for families seeking safety and injury prevention information. As a result, the mission to prevent accidents and injuries to children in and around the home is fulfilled through increased safety awareness, public education, and the distribution of safety devices.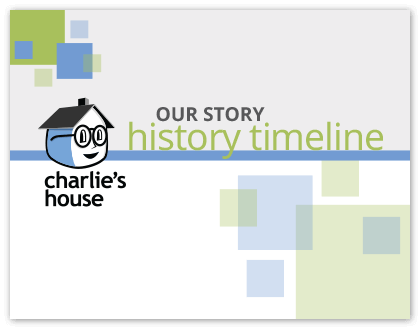 To view our History & Accomplishments
Click Here
THE NEED
The Consumer Product Safety Commission data indicates on average, tipped furniture or falling televisions send a child to the emergency room every 24 minutes in this country. Approximately 830 children ages 16 and under drown every year. Drowning is the second leading cause of unintentional death in children. An estimated 3,900 injuries associated with accidental electrical shock are treated in emergency rooms annually, and each year over 500 children die of electrocution accidents. Unintentional injuries or accidents are the number one cause of death in children under 18 in the United States.
OUR FUTURE
Building a Safety Demonstration Home has been a goal from the beginning. After completing a successful capital campaign, the board of directors broke ground in fall 2018 on Charlie's House, located near Hospital Hill in Kansas City. On May 6, 2021, our Safety Demonstration House was officially opened. This model simulation safety home serves as a community resource for families and community organizations. Charlie's House – offers individuals and groups tours of rooms that highlight safety concerns and ways to mitigate issues. The facility is designed to look like a home with interactive features to communicate the importance of childproofing a home. Additionally, the garage serves as a community area, a primary center where Charlie's House and our community program partners offer workshops and classes.
Meet the experts and dedicated volunteers that make it all happen.